The Website of William St John Glenn (1904 - 1974)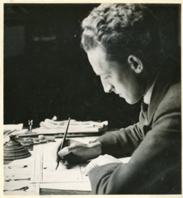 Oscar
Oscar was a cartoon strip William St. John Glenn drew for the
Belfast Telegraph
from 1926 when he was still 21. Here is a copy of one of the first in May 1926.

The artist continued with the cartoon strip until he moved to London in 1936.
Here is a drawing from 1934


The Drawings and Pictures on this site can only be reproduced with permission.
For more information
contact Bronte Matthews